Relax with stunning views, explore vibrant reefs and weave a tapestry of memories in paradise.
You'll find so many ways to enjoy your island days at Tavola Fiji. We are remote yet accessible, and perfect for guests who value their privacy and want to cocoon together and venture out for special excursions, which we are happy to recommend and arrange.
Tropical Wellness
Welcome the sunrise with meditative yoga. We provide mats, blocks, blankets and straps. Truly, there is no more inspiring place to revive and get into your yoga groove than the native vesi decks of Tavola Villa Fiji overlooking Savusavu Bay.
Located amidst the sheltering branches of an enormous rain tree is our massage cabana. It's an inspired place to journal, or indulge in a relaxation or deep tissue massage with indigenous nut oils, and combine with extra healing treatments such as reflexology or cranial sacral massage.
A Quick Look
Included experiences:
Infinity pool
Yoga gear
Kayaks and snorkeling
Hiking
Playing field and sports equipment
Bocce ball, croquet and volleyball
Flying fox, trampoline, rope swings
Eco-farm tending and harvesting
Library and hammocks
Indoor games
Creative nooks
Popular add-on experiences, at the villa:
Massages
Boat hire for fishing and bay excursions
Local excursions:
Day-long excursions:
Taveuni day trip
Ancient petroglyphs
Playful relaxation
Luxuriate in the infinity pool perched above the rain tree canopy with spectacular views of Savusavu Bay. Choose a book from our eclectic library for extreme hammocking. Or pull a game from our games cabinet.
Hike the property, harvesting bananas, papayas and passion fruit. Wander into the veggie garden and invite our dogs to go with you. Discover creative nooks for journaling or writing poetry, like our tucked-away fairy tree house.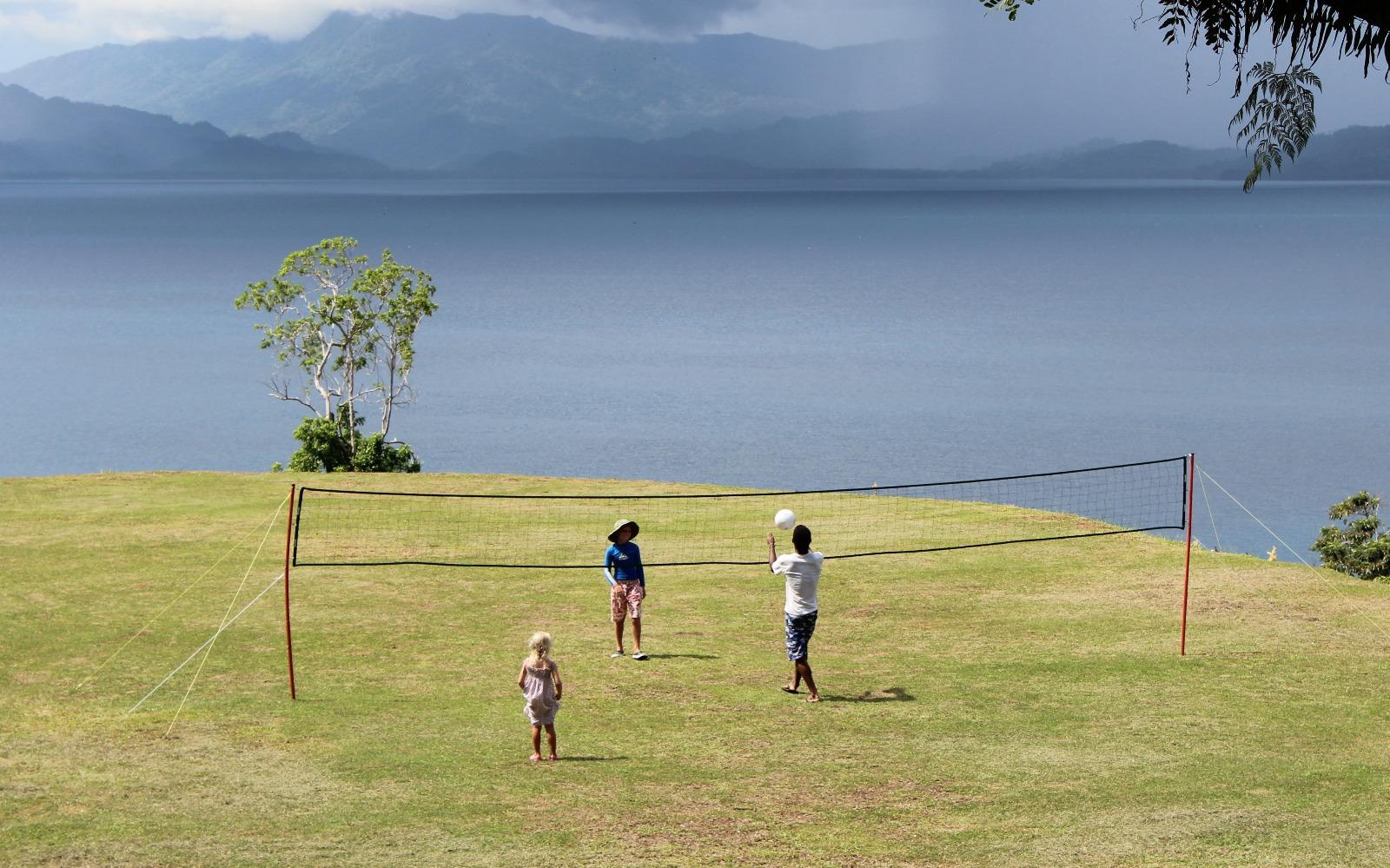 Outdoor games for everyone
At the top of our property is a playing field with panoramic views of the Bay where guests can play volleyball, frisbee, footy and the like. We have a variety of sports gear, including a bocce ball set, though the coconut version is a guest favorite. And there are activities to reawaken the child within you, such as trampoline, flying fox and rope swings.
Salt and spray on Savusavu Bay
When the ocean beckons, meander down to the boat shed, located at the water level, where you'll find kayaks and snorkeling gear included for use during your stay. There are two double kayaks and two single kayaks. One set is a "sit on top" style which is good for snorkeling trips to nearby Split Rock as they are easy to climb off and on. The other set is a "climb in" style that best serves longer trips around the bay.
There is also the option to hire our captained 23-foot skiff Ossus (a Star Wars nod to the owner's time working for Lucasfilm) which can be used for fishing, free diving and snorkeling in the bay. The boat hire with Captain Jack who expertly guides guests to phenomenal reefs and shy sandbars for picnics is available for an additional cost. The area around Savusavu Bay has some of Fiji's best sport fishing. In deep waters there are marlin, sailfish, yellowfin tuna, wahoo and mahi mahi. Around the reefs, the GT's, dogtooth tuna, and of course walu (Spanish Mackerel) are just waiting to take your line for a run. Our 7 meter long boat (with 60hp Yamaha Enduro) will get you right into the action. Our equipment is Shimano gear (from 80lb marlin rigs to 10lb popping rods). The last morning we went out, we caught a yellow fin tuna, a skipjack and a giant trevally just as the sun was rising, while dolphins played at the bow. Magic!
A Heart-Centered Culture
Savusavu is affectionately called Fiji's "hidden paradise" and is located in pristine northern Fiji where you will find an authentic and peaceful Fiji experience. So many of our guests enjoy a trip to a Fijian village, which we highly recommend. Fijians keep life simple and there is much to be learned from the ways they cultivate joy by being present. Or hike to a waterfall, snorkel in some of the world's most vibrant and diverse coral gardens in pristine Natewa Bay, dive with nearby Cousteau Resort (Northern Fiji is lauded worldwide for its exceptional diving), attend a chocolate workshop at KokoMana cacao farm, picnic and swim at the meteor-created saltwater Blue Lagoon, stroll through the Savusavu market and learn to prepare local delicacies, play squash at top-notch courts just 10 minutes away or golf just 20 minutes away, tour the J. Hunter Pearls local pearl farm, as well as other exciting ways to make your Fiji getaway special and experience the beauty of a heart-centered culture.
Day Trips
If you're keen to explore further afield from your base at Tavola Villa Fiji, we can plan a day trip for you to the garden isle of Taveuni where you can stand on both sides of the international dateline and explore the native, organic gardens of Gaia Tree Sanctuary. Another exceptional experience is a day trip and hike to remote petroglyphs that legend says were created by an advanced race of man who had mastered time. For a spectacular indulgence, take a scenic helicopter flight directly from our private helipad.