Dive into Fiji's abundant sea and explore the world's most vibrant coral reefs.
At Tavola, we are passionate about protecting our oceans and living in harmony with the planet. The remarkable beauty of Fiji's ocean brings people from around the world to these sandy shores. The seas here are so stunning, it's hard to believe that truly untouched places like this still exist on our planet. Experience the surreal magic of luxury diving in Fiji and explore one of the many ways for you to immerse yourself in the underwater world of Fiji's clear blue waters while giving back to the planet.
Salt and spray on Savusavu Bay
When the ocean beckons, meander down to our boat shed, located at the water's edge, where you'll find kayaks and snorkeling gear included for use during your stay. There are two double kayaks and two single kayaks. One set is a "sit on top" style which is good for snorkeling trips to nearby Split Rock as they are easy to climb off and on. The other set is a "climb in" style that best serves longer trips around the bay.
There is also the option to hire our captained 23-foot skiff Ossus (a Star Wars nod to the owner's time working for Lucasfilm) which can be used for fishing, free diving and snorkeling in the bay. The boat hire with Captain Jack who expertly guides guests to phenomenal reefs and shy sandbars for picnics is available for an additional cost. The area around Savusavu Bay has some of Fiji's best sport fishing. In deep waters there are marlin, sailfish, yellowfin tuna, wahoo and mahi mahi. Around the reefs, the GT's, dogtooth tuna, and of course walu (Spanish Mackerel) are just waiting to take your line for a run. Our 7 meter long boat (with 60hp Yamaha Enduro) will get you right into the action. Our equipment is Shimano gear (from 80lb marlin rigs to 10lb popping rods). The last morning we went out, we caught a yellow fin tuna, a skipjack and a giant trevally just as the sun was rising, while dolphins played at the bow. Magic!
A Quick Look
Included experiences:
Infinity pool
Yoga gear
Kayaks and snorkeling
Hiking
Playing field and sports equipment
Bocce ball, croquet and volleyball
Trampoline, rope swings
Eco-farm tending and harvesting
Library and hammocks
Indoor games
Creative nooks
Popular add-on experiences, at the villa:
Massages
Boat hire for fishing and bay excursions
Local excursions:
Savusavu market tour
Waterfall hike and village trip
KokoMana chocolate farm tour
Blue Lagoon saltwater float
Squash or golf
J. Hunter Pearls pearl farm tour
Luxury Diving:
Day-long excursions:
Taveuni day trip
Ancient petroglyphs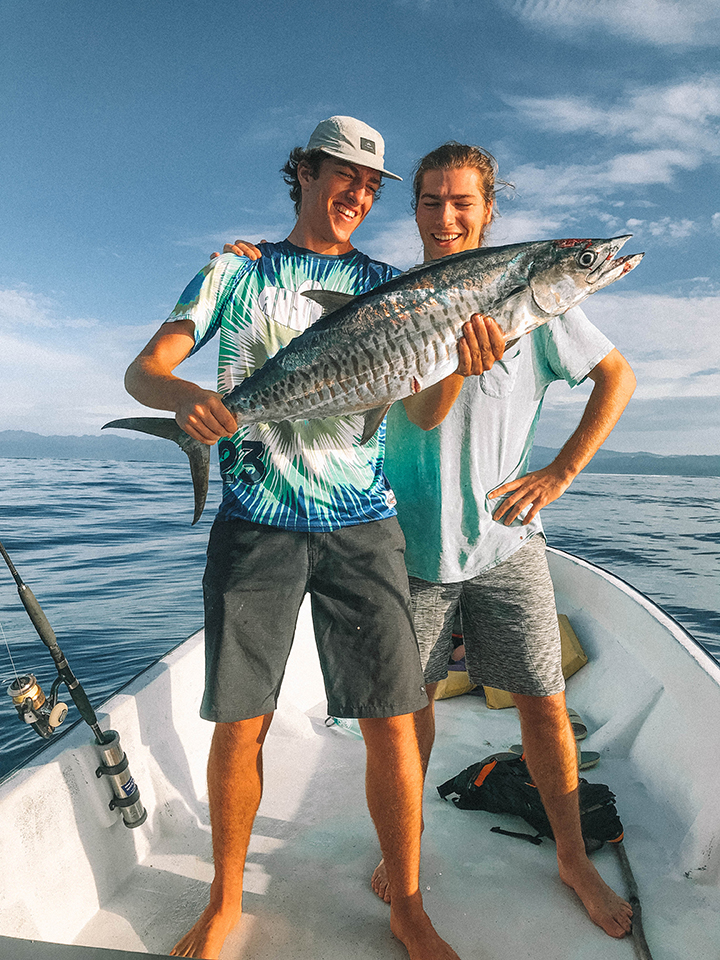 World-class SCUBA with renowned Cousteau Diving
Northern Fiji is lauded worldwide for its exceptional diving. The extraordinary coral reefs and their unique ecosystem are truly rare. Our location at Tavola is in the heart of Fiji's healthiest reefs, amidst untouched coral gardens and an extensive variety of colorful marine life. Experience luxury diving in Fiji with us!
Cousteau, just a walk from Tavola, offers a wide range of PADI certification and specialty courses, as well as equipment rentals. Their top-notch dive team led by Andy guides novices and experts alike through the wonders of our marine ecosystems, whether exploring the coral heads of Namena Marine Reserve or cruising the walls and canyons of Shark Alley.
If you're new to diving and would like to learn, the Cousteau dive masters are happy to acquaint you with the dive equipment in the infinity pool at Tavola.
Experience nearby Natewa Bay, untouched by time
Natewa Bay is the largest bay in the South Pacific, followed by Sydney Harbor, and then by Savusavu Bay. Because of its unique underwater topography, no large vessels venture into Natewa. Consequently, Natewa is truly pristine. The last time we went out, we were treated to breaching whales, curious dolphins, leaping manta rays and a serene reef shark followed by 6 sharks in a nursery. Not to mention the surreal and almost supernatural glow of the coral gardens.
We team with Matthew and Sara of Ocean Ventures and Jay of Dr Jay's for excursions in Natewa. Both offer excellent snorkeling with eco-expert and caring guides. In addition, Ocean Ventures offers luxury diving and a sought-after PADI specialty course -- South Pacific Coral Reef Ecology Distinctive Specialty.
Go "au natural" with freediving in Savusavu Bay
Toby and Neelam run Liquid State Free Diving, located just down the road from Tavola. If you're a meditation fiend and have mastered breath control, you may like to try freediving. Toby is an excellent instructor, and he's pleased to share his love for freediving with beginners. He's passionate about helping people unlock their transformative potential to dive on one breath.
Ocean Conservation
We're blessed to live in a pristine paradise, and we're committed to protecting our oceans and living in harmony with the planet. When you stay with us, you can get involved in reef restoration projects, beach cleanups and the like. Participating in eco-initiatives is a great way to give back to the planet and create awareness for the next generation. Ask us what programs we have underway!
Luxury Dive and Ocean Adventure Packages
Depending on your interests, we are happy to put together custom luxury dive packages to enjoy from your home base at Tavola Villa.  Perhaps you'd like 3 dives with Cousteau in Savusavu Bay, 2 dives with Ocean Ventures in Natewa Bay, a conservation PADI specialty course and an introduction to free diving.  For guests in your party who prefer to snorkel, they can join the boat excursions with both Cousteau and Ocean Ventures. And when we put together your custom package, we can include transport.
Let us know what you desire, and we'll make it happen!