Play in paradise and weave a tapestry of memories.
We believe in the power of play to foster creativity and connection. You'll find so many ways to enjoy your island days at Tavola Fiji. We are remote yet accessible, perfect for guests who value their privacy and want to cocoon together and venture out for special excursions, which we are happy to recommend and arrange.
Outdoor games for everyone
At the top of our property is a playing field with panoramic views of the Bay where guests can play volleyball, frisbee, footy and the like. We have a variety of sports gear, including a bocce ball set, though the coconut version is a guest favorite!  There's no better way to toast the setting sun than with a glass raised high and a bocce ball in hand.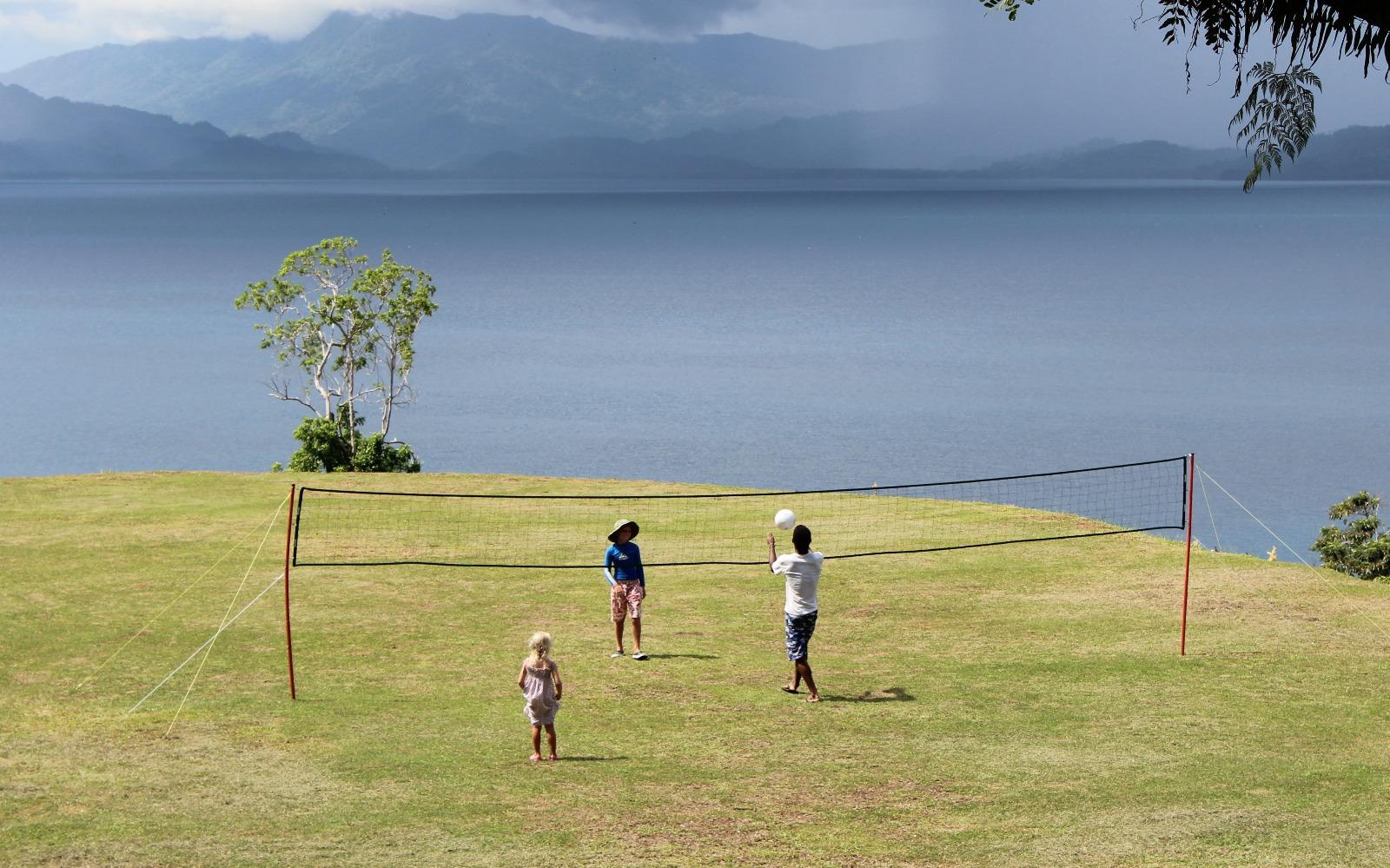 A Quick Look
Included experiences:
Infinity pool
Yoga gear
Kayaks and snorkeling
Hiking
Playing field and sports equipment
Bocce ball, croquet and volleyball
Trampoline, rope swings
Eco-farm tending and harvesting
Library and hammocks
Indoor games
Creative nooks
Popular add-on experiences, at the villa:
Massages
Boat hire for fishing and bay excursions
Local excursions:
Savusavu market tour
Waterfall hike and village trip
KokoMana chocolate farm tour
Blue Lagoon saltwater float
Squash or golf
J. Hunter Pearls pearl farm tour
Luxury Diving:
Day-long excursions:
Taveuni day trip
Ancient petroglyphs
Carefree Fun
Remember your childhood when the made-up games were the most fun? My mom used to draw us lilypads in the sand, and we would frog-leap from one to the next. At Tavola, the front drive doubles as an impromptu hop scotch. Trampoline and rope swings beckon the child within. And for special celebrations, we put together scavenger hunts with island treasures, followed by relay races and prizes for all.
Inviting Waterfalls
At Tavola we have a babbling creek running along the perimeter of the property.  Hike up the creek a ways, and you'll discover four shy waterfalls. A more accessible cascade is Vuadomo Falls, which is an easy walk from a lovely village.  Or, channel your hiking mojo and venture to Waisali Falls where you'll be rewarded with a gorgeous pool, likely all to yourselves.
Chocolate - Elixir of the Gods
Close to Tavola is KokoMana Artisanal Chocolate Farm. This unique chocolate experience is deep in the forest yet just 2km from town. At KokoMana, tour the gardens, harvest cocoa, and learn all about the art of making organic chocolates from tree to bar.  Taste exquisite chocolates, refined at every step for exceptional flavor, and pick up several bars to tuck into your bags for the trip home. On our cocktail menu at Tavola, we've concocted the KokoMano Chili Chocolate Martini!
Frolic in the Blue Lagoon, or Float into Salt Lake
One of our favorite spots is the Blue Lagoon, along the coast of Vanua Levu overlooking the garden island of Taveuni. Legend has it the lagoon was created when a meteor struck, carving out a deep lagoon surrounded by protective reefs.  When the tide goes out, the lagoon is filled with a buoyant salt water, making for a lovely float. The low tide is also the perfect opportunity to toss a frisbee on the beach and enjoy a picnic.
More water play is available at nearby Salt Lake, which is connected to the sea. On the incoming tide, enjoy a leisurely float as you drift from the sea to the lake.  We promise you'll want to make every moment stretch as the experience is so relaxing. When you arrive at the lake, you'll spy a pontoon just waiting to host your picnic which is delivered to you by boat. Now this is a perfect day!
More in Savusavu
The charming seaside town of Savusavu has so much to offer. Stroll through the Savusavu market, discovering exotic fruits and ferns, and learn to prepare local delicacies. Luxuriate in natural mud pools. Play squash at top-notch courts just 10 minutes away or golf just 20 minutes away. Tour the J. Hunter Pearls local pearl farm. So many enticing ways to make your Fiji getaway special.
Day Trips
If you're keen to explore further afield from your base at Tavola Villa, we can plan a day trip for you to the garden isle of Taveuni where you can stand on both sides of the international dateline and explore the native, organic gardens of Gaia Tree Sanctuary. Another exceptional experience is a day trip and hike to remote petroglyphs that legend says were created by an advanced race of man who had mastered time. For a spectacular indulgence, take a scenic helicopter flight directly from our private helipad.