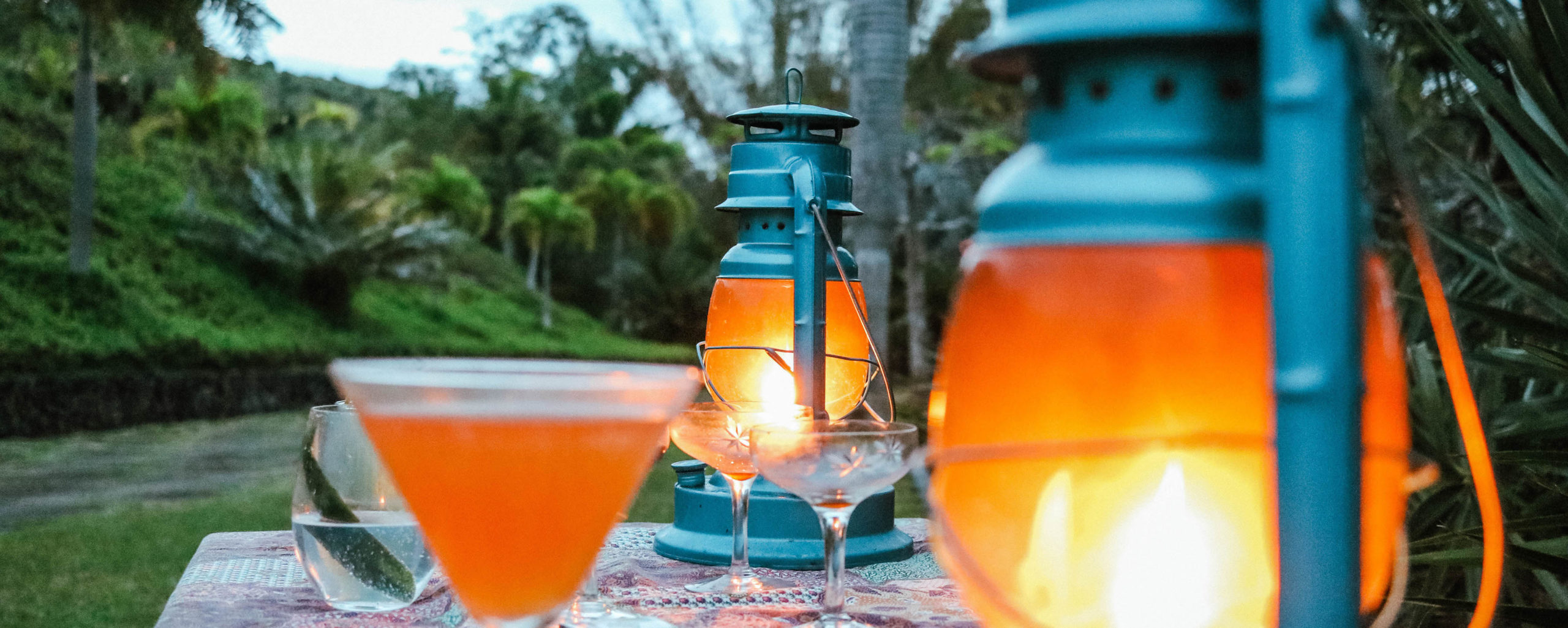 Gather and laugh with friends a tavola (at the family table) dining on hyper-local cuisine inspired by global flavors.
Your included continental breakfast is served at your leisure. For caffeine fans, enjoy just-brewed French press coffee, sometimes flavored with a cardamom pod or a dash of nutmeg. If you prefer tea, try a fresh lemon-ginger tea, a lemongrass tea or invigorating turmeric tea. The choices vary and may include just-baked pumpkin scones, house granola topped with fresh fruits and an array of homemade jams.
Tavola offers two beautiful formal eating areas, one indoor and one outdoor, each with expansive views of the bay and the lush green mountains beyond. The open-concept kitchen is so inviting and quickly becomes a preferred gathering spot. You'll find a conventional oven and gas stovetop, large gas grill and Weber barbeque. There is also a traditional lovo pit (Fijian earthen oven) at the rear of the villa which has a spit barbeque with separate outdoor dining area perched atop the plateau.
You are welcome to chef it up for yourself at Tavola Fiji private pool villa. You'll find tantalizing produce at the farmer's market in Savusavu. Try Fiji favorites like custard apples, kavika or foraged ferns. Or, acquaint yourself with Tavola's own edible landscape and organic garden. You'll discover ripening tropical fruits, fragrant herbs and organic vegetables. We have soursop, mango, noni, pineapple, passionfruit, papaya, cassava, dalo, coconuts, avocado, ginger, hibiscus, rosemary, mint, lemongrass, aubergine, spring onions, bananas and plantains. When you stay with us, see if you can find them all!
If you prefer to be pampered at our Fiji private pool villa, we offer the option of private chef 3-course gourmet dinners. Choose from prix-fixe menus for adults and children, featuring native Fijian dishes, spicy Indian fare, festive Surf and Turf or international fusion for the adventuring palate. Your dishes are inspired by freshly available ingredients and sourced directly from the local markets - like just-caught fish from Savusavu Bay and grass-fed beef from our island of Vanua Levu. We're pleased to adapt menus for your dietary preferences, and we have tempting vegan options for you, too.
A QUICK LOOK
Included
Continental breakfast 
Meandering walks to harvest from Tavola's edible landscape
Use of Tavola's inviting open-concept kitchen
Staff for kitchen clean up
Also available
Private chef 3-course dinners
Custom stocked bar
Menus adapted to your dietary preferences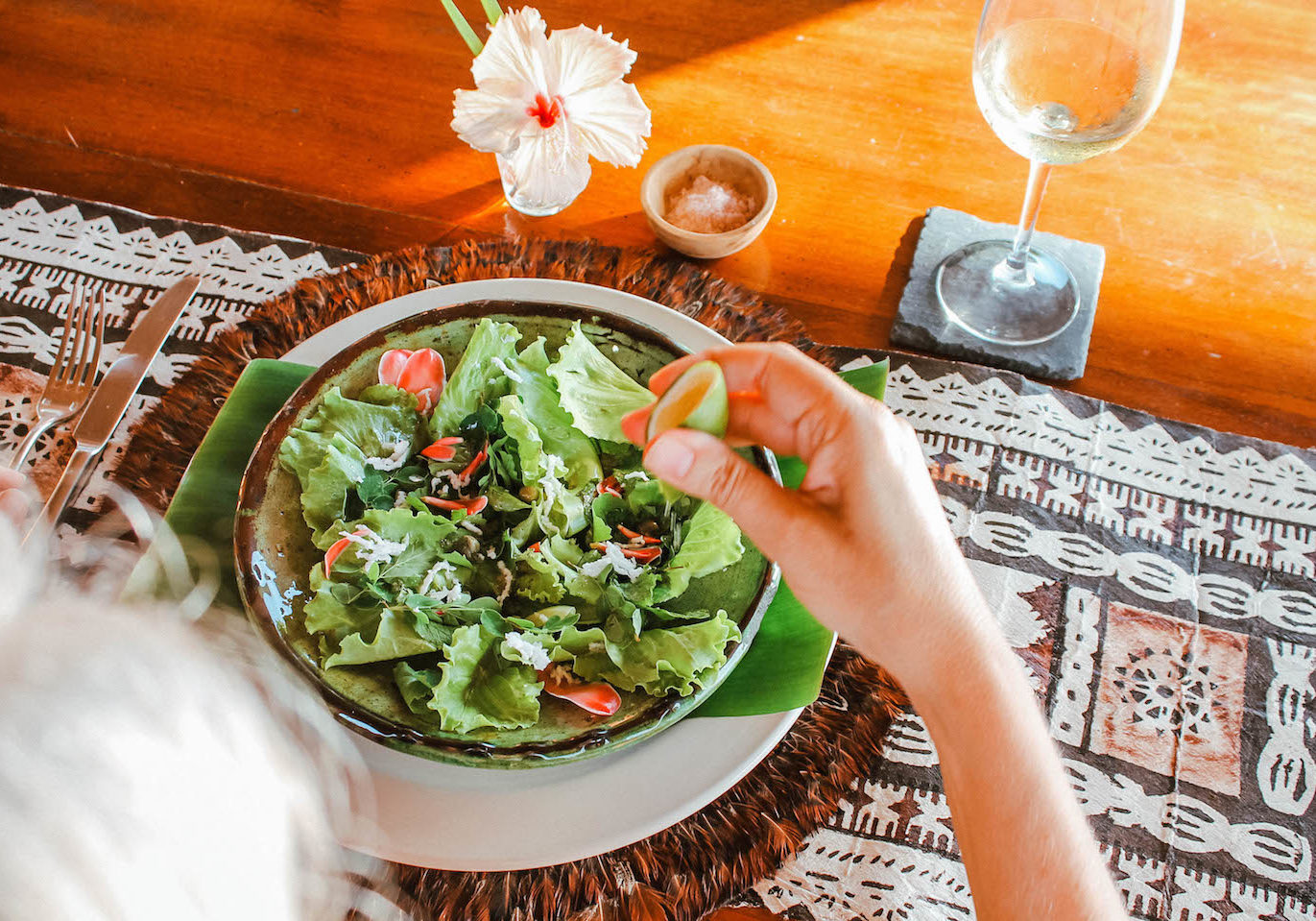 We offer a custom stocked bar, and we make pairing suggestions for your private chef dinners. Enjoy a crisp New Zealand Sauvignon Blanc or a robust Australian Shiraz. We've also curated local libations, like Blue Turtle Gin and Bati Coffee Rum Liqueur. We hope you'll have fun discovering innovations that Fiji has to offer. When you pre-order beers, wines and spirits from our curated selection, your custom bar will be waiting for you on arrival.
Should you choose to enjoy an evening at the villa being tended by your private chef, you'll have a chance to enjoy the kitchen alchemy in action. Pour yourself a glass of bubbly, perch at the bar and hear stories of our beautiful Savusavu while you learn the secrets of our local cuisine.
All of our cuisine options are nourishing and nurturing gourmet fare. In fact, our name "Tavola" honors the indigenous, medicinal grand-dame Tavola tree of Fiji, as well as the Italian phrase "a tavola" meaning "family table." It is the memories and connections created when we gather together over meals that makes life so very precious.