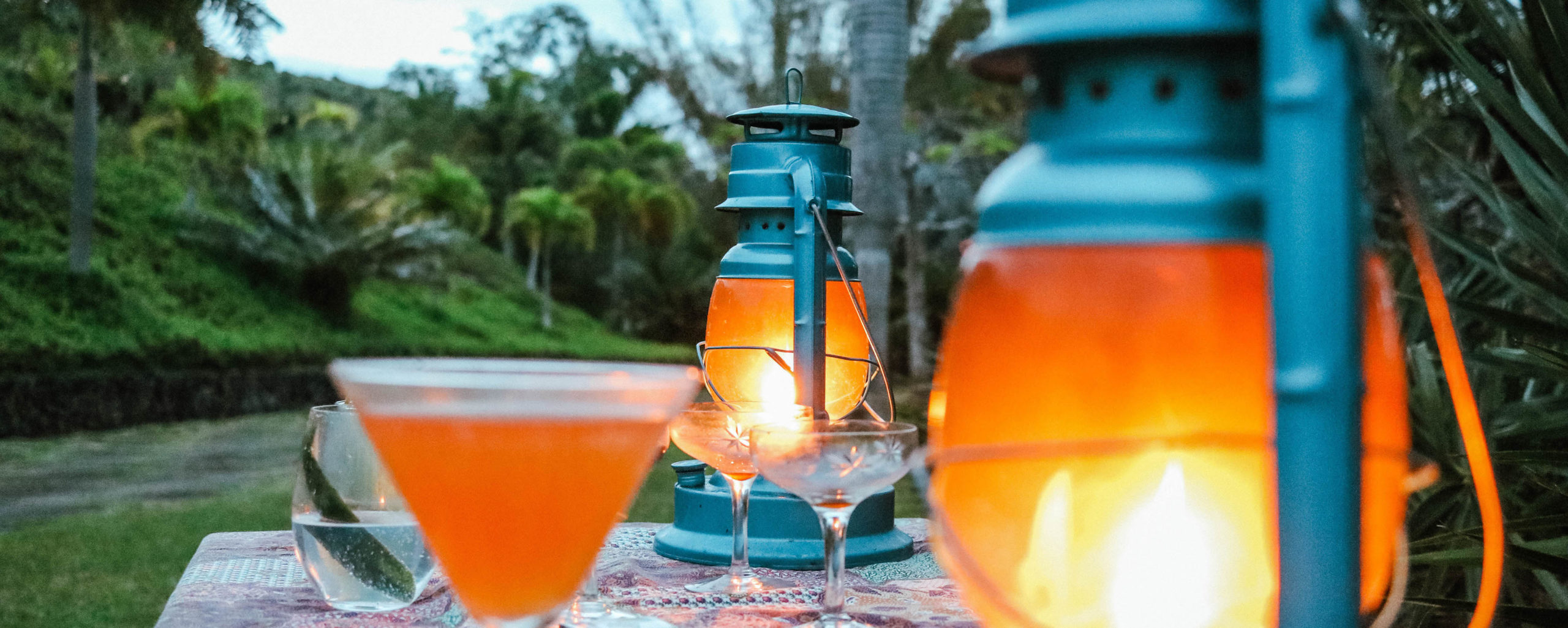 Gather and laugh with friends a tavola (at the family table) dining on hyper-local cuisine inspired by global flavors.
We are pleased to welcome you home with nourishing and nurturing gourmet fare. In fact, our name "Tavola" honors the indigenous, medicinal grand-dame Tavola tree of Fiji, as well as the Italian phrase "a tavola" meaning "family table." It is the memories and connections created when we gather together over meals that makes life so very precious.
We buy from local farmers, and our own edible landscape offers just-picked tropical fruits, fragrant herbs and organic vegetables. We have soursop, mango, noni, pineapple, passionfruit, papaya, cassava, dalo, coconuts, bananas and plantains. When you stay with us, see if you can find them all!
Tavola offers two beautiful formal eating areas, one indoor and one outdoor, each with expansive views of the bay and the lush green mountains beyond. The open-concept kitchen is so inviting and quickly becomes a preferred gathering spot. There is the choice to have food cooked in a conventional oven, large wood-fired pizza oven, gas grill, or Weber barbeque. There is also a traditional lovo pit (Fijian earthen oven) at the rear of the villa which has a spit barbeque with separate outdoor dining area perched atop the plateau.
Breakfast is served at your leisure. For caffeine fans, enjoy just-brewed French press coffee, sometimes flavored with a cardamom pod or a dash of nutmeg. If you prefer tea, we make a fresh lemon-ginger tea, a lemongrass tea and invigorating turmeric tea. The choices vary daily and may include eggs shakshuka, just-baked pumpkin bread, house granola topped with fresh fruits and an array of homemade condiments.
A QUICK LOOK
Artisanal meals include breakfast, picnic lunch, snacks and 3-course dinner
Harvested from Tavola's edible landscape, sustainably caught from the sea and sourced from local farmers
Menus adapted to dietary preferences
Craft cocktails, wines and beers available from the stocked honor bar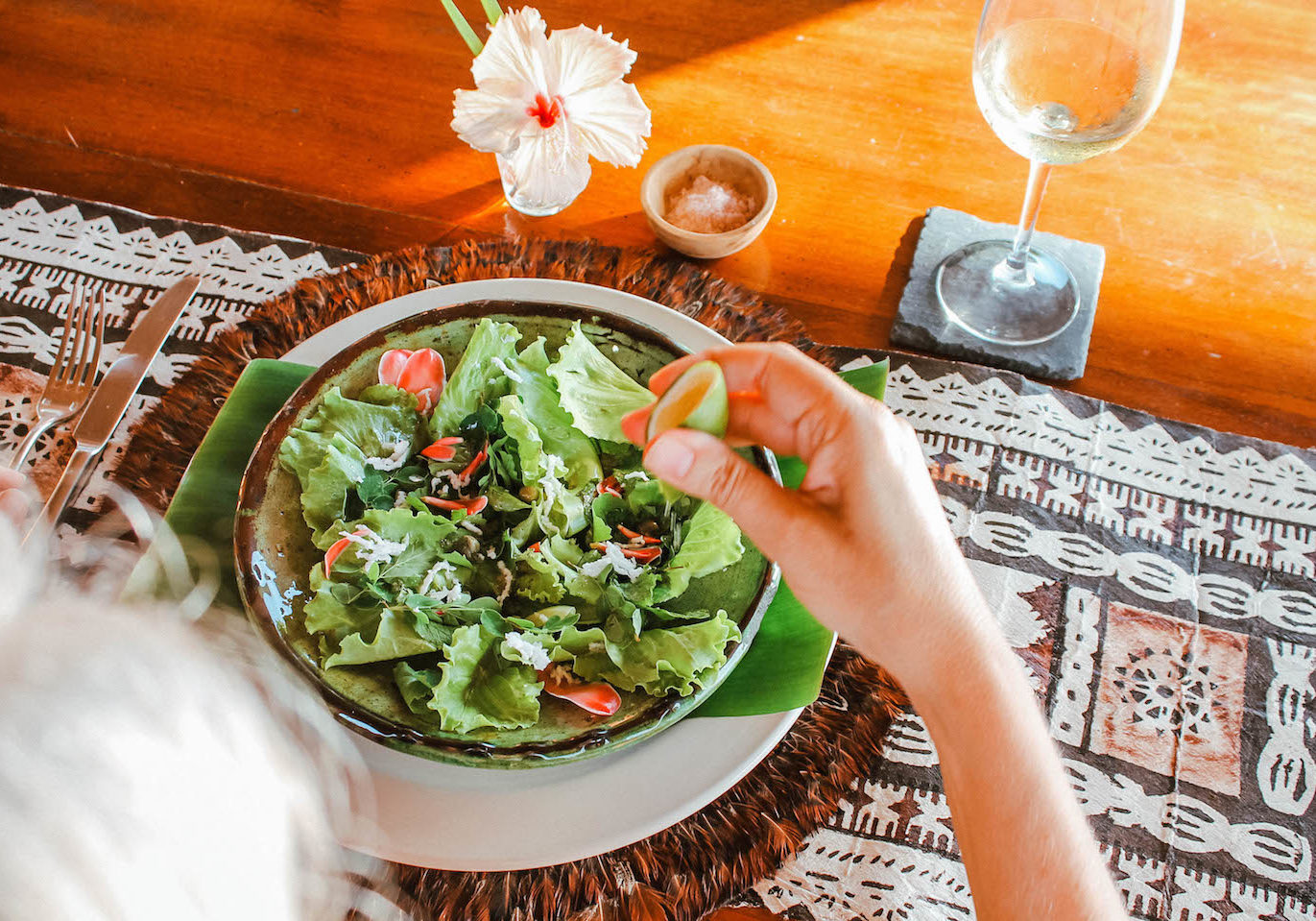 Lunches can be packed as picnics so you are ready to wander our beautiful island. Enjoy aubergine-potato curry wrapped in roti, green salad, passion fruits, and oatmeal-raisin cookies. Take along your backpack lunch to hike a spectacular waterfall, or kayak to a nearby cove, or meander to the top of Tavola for a breathtaking view of Savusavu Bay and some quiet time with your journal.
In the evening enjoy a festive dinner party. Appetizers are served at dusk, often with a rousing game of coconut bocce ball. Grilled prawns dipped in tequila aioli are a particular favorite. As the sun sets, return to the villa for a candlelit dinner. If you went fishing in the morning with Captain Jack, expect your Spanish mackerel herb-grilled over a bed of just-harvested greens, or prepared as Fiji-style ceviche called Kokoda. Another favorite main is our signature Cardamom Chicken with Caramelized Onions and Currant Rice. Grilled aubergine lavished with a spiced oil and dusted with feta is the perfect complement.
Of course, dinner is never complete until dessert is served. We love to spoil you with coffee-rum chocolate cupcakes or our old-fashioned doughnut bundt cake drizzled with lemon glaze. Evenings are always special when friends and family gather together, tell stories and laugh until the stars twinkle. Licensed to serve alcohol, we offer wines with dinner and beer and craft cocktails to enjoy as the sun sets.